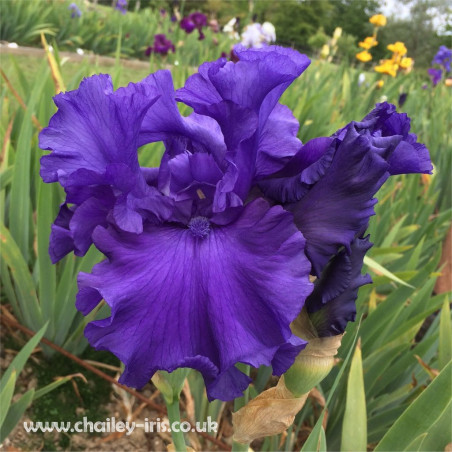  
Devil's Lake
Tall Bearded Iris 99cm. Great for cutting.
Mid to Late Season blooms, late May to early July in the UK.
Aptly named Devil's Lake not only has a dark navy blue colouration but also produces enormous flowers on strong tall stems with four branches and 6 to 8 buds. 
Hybridised by Schreiner from multiple crosses. Their 1999 catalogue described it as a "vigorous deep blue Iris with ruffles galore from our long line of champions."
Receiving an Honorable Mention in 2001.

2022 Season now Open.
Orders shipped in September.
(Schreiner, R. 1999) Sdlg. BB 598-1. TB, 39" (99 cm), ML. Dark navy blue (RHS 94A) self; beards blue, yellow in throat. W 170-1: (R 256-A: ((Shoreline sib x Brook Flower) x (((Prince Indigo x (Allegiance x (Harbor Blue x (Blue Ensign x Pierre Menard)))) x ((First Violet x Arabi Pasha) x (Salem x Bluebird Blue))) x (Tropical Night x (((Caroline Jane x (Harlequin x Bright Contrast)) x Emma Cook) x (Toll Gate x (Black Taffeta x King's Choice)))))) x Royal Crusader) X T 260-1: (Midnight Express sib x Titan's Glory). Schreiner 1999. HM 2001.
Data sheet
Height

Tall - 70-100cm

Colour

Blue

Fragrance

None

Season

Mid-Late

Rebloomer

No
Customers who bought this product also bought: