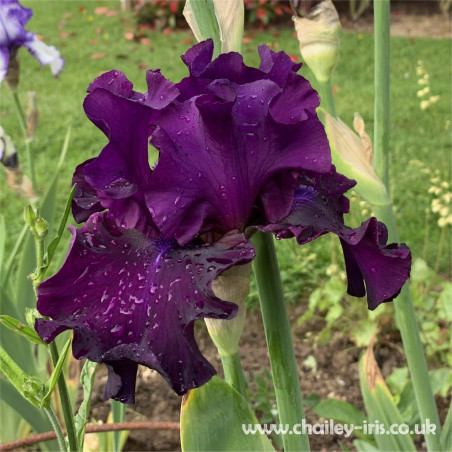  
Diabolique
Tall Bearded Iris 97cm. Exquisitely ruffled and flared flower form of this devilish delight.
Mid to Late Season flowering, May and June in the UK.
Sweet Fragrance.
Heavily ruffled claret purple Self bloom with blue-purple beards.
Hybridised by Schreiner's in 1997 from multiple crosses (details on Description tab).
Receiving an Honourable Mention in 1999, an Award of Merit in 2001. John Wister Medal in 2003 and a Fred and Barbara Walther Cup in 1999.

2022 Season now Open.
Orders shipped in September.
(Schreiner, R. 1997) Sdlg. DD 483-1. TB, 38" (97 cm), ML. Heavily ruffled claret purple (RHS 77A) self; beards blue purple; slight fragrance. T 869-2, Rosette Wine sib, X Y 682-2: (T 453-B, Thriller sib, x T 449-A: ((Master Touch x ((((Alpenrose x Anthem) x (Amethyst Flame x Melodrama)) x ((Alpenrose x Brigadoon) x (Amethyst Flame x Melodrama))) x Rondo)) x (J 411-B, Sailor's Dance sdlg., x ((G 1517-B x Neptune's Pool) x Royal Regency sib)))). Schreiner 1997. HM 1999, AM 2001, Wister 2003.
Data sheet
Height

Tall - 70-100cm

Colour

Purple

Fragrance

Slight Sweet

Season

Mid-Late

Rebloomer

No
Customers who bought this product also bought: