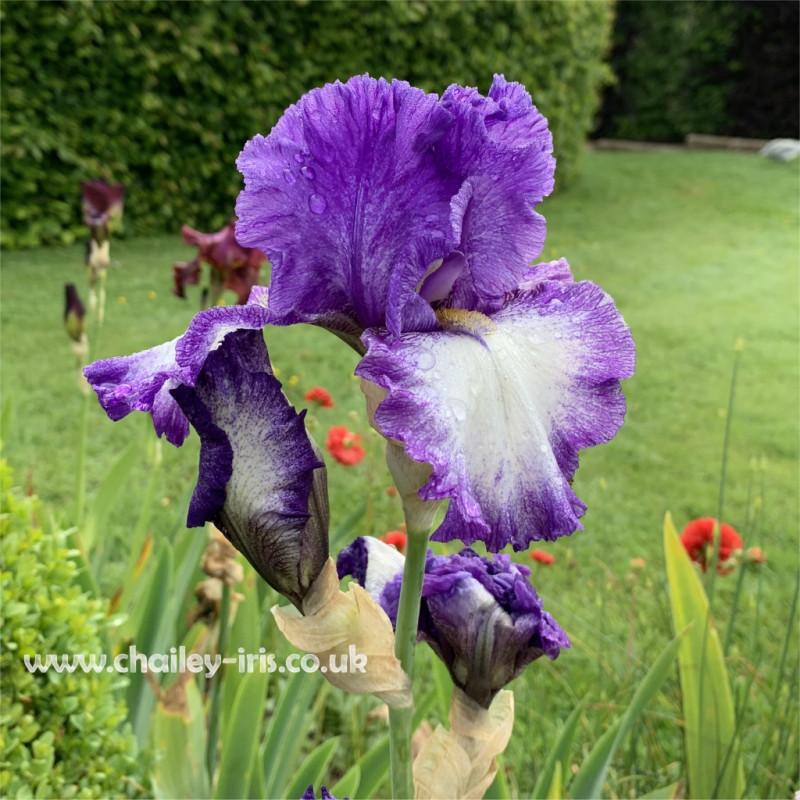  
Double Shot
Tall Bearded Iris 91cm.
Early-Mid-Late rebloomer
Violet and white plicata flowers. Ruffled white standards edged in violet blue, white falls violet-blue edged. White beard tipped in yellow.
Slight sweet fragrance.
Introduced by George Sutton in 2000 from Point in Time, Garden Grace and Bountiful Harvest. Parent of Stegosaurus, Toe the Line and Yonkers.
(George Sutton, R. 1999) Sdlg. H-51 M. TB, 36" (91 cm), EML & RE; S. white, sanded violet blue; style arms violet blue; F. white, heavily striped violet blue; beards white, hairs tipped yellow; slight sweet fragrance. Point in Time X G-83: (Garden Grace x Bountiful Harvest). Sutton 2000.
Data sheet
Height

Tall - 70-100cm

Colour

Plicata, Purple, White

Fragrance

Slight Sweet

Season

Early-Mid-Late

Rebloomer

Yes