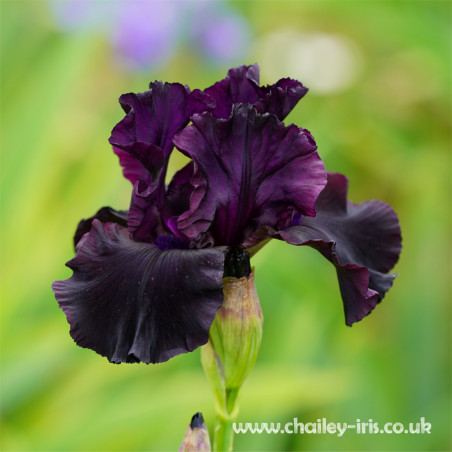  
Ebony Angel
Tall Bearded Iris 97cm.
Colossal ruffles on this ebony beauty. Seven to nine buds on tall, sturdy stalks.
Mid Season flowering, late May and June in the UK.
Spicy Sweet Fragrance.
Exotic, ruffled Self blooms in royal purple-black, lightly washed with a bluish cast. Deep blue-black beards.
Hybridised by Larry Johnson in 2000 from Black Tie Affair X Mallory Kay.
We first saw this iris at Cooley's Nursery in 2000 and thought it worth bringing back to the UK.
Receiving an Honorable Mention in 2002.

2022 Season now Open.
Orders shipped in September.
(Larry Johnson, R. 2000) Sdlg. JO94-68-1. TB, 38" (97 cm), M. Bluish purple black; beards matching; slight spicy sweet fragrance. Black Tie Affair X Mallory Kay. Cooley 2000. HM 2002.
Data sheet
Height

Tall - 70-100cm

Colour

Black

Fragrance

Spicy
Sweet

Season

Mid

Rebloomer

No
Customers who bought this product also bought: