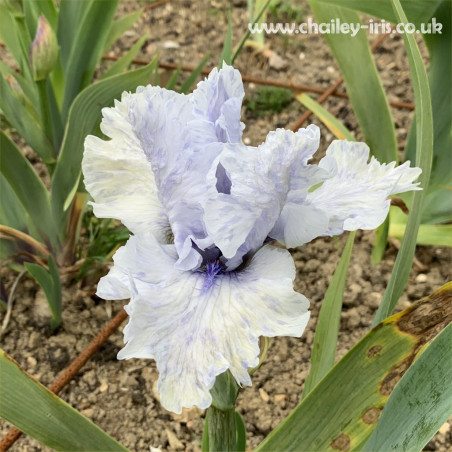  
Electric Surge
Exclusive to Chailey Iris Garden Nursery.
Tall Bearded Iris 94cm.
Mid to Late Season flowering, May and June in the UK.
Sweet fragrant blooms.
Ruffled Self flowers in the palest of violet blue with contrasting dark violet beard.
Hybridised by American John Weiler in 1992 from  many crosses (listed in Description Tab below)
First available at the Johns own Rialto Gardens in 1992.

2022 Season now Open.
Orders shipped in September.
(John Weiler, R. 1992) Sdlg. 86-152-6. TB, 37" (94 cm), ML. Lightly ruffled palest blue violet; beards very dark violet; slight sweet fragrance. 84-164-1: (Blackbeard x ((Social Whirl x Bridal Wreath) x (Goodnight Irene x Blue Luster))) X 84-142-1: (82-106-7: (78-32-2B: (((Southern Comfort x White King) x Tinsel Town) x ((Flaming Dragon x New Moon) x (Minnesota Glitters x Kimberlina))) x Bridal Fashion) x (That Scentsation x Swan Dance)). Rialto 1992.
Data sheet
Height

Tall - 70-100cm

Colour

Blue
White

Fragrance

Sweet

Season

Mid-Late

Rebloomer

No
Customers who bought this product also bought: