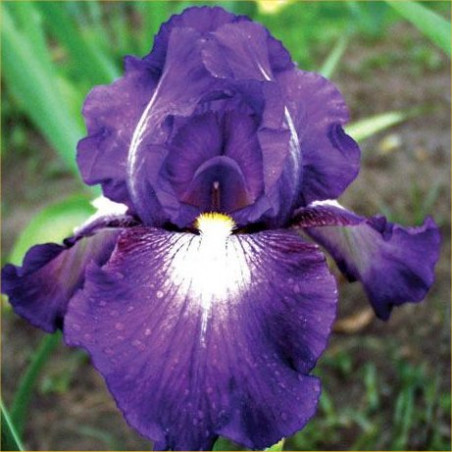  
Fall Spotlight
Tall Bearded Iris 91cm. Introduced by and Exclusive to Chailey Iris Garden in the UK.
Mid Season flowering, May and June in the UK. Reblooming in Autumn.
Sweet Fragrance.
Elegantly ruffled blooms. Violet purple standards with a white midrib. The falls are violet purple with large white spots surrounding the light yellow beard.
Hybridised by Walter Moores in 1990 from Magic Candle X Needlecraft.

2021 Season now Closed.
New orders shipped in September 2022.
(Walter Moores, R. 1990) Sdlg. 82-20. TB, 36" (91 cm), M & RE (Nov/MSTX)S. violet purple, white midrib; F. violet purple, large white spot surrounding light yellow beard; ruffled; slight sweet fragrance. Magic Candle X Needlecraft. Moores 1992.
Data sheet
Height

Tall - 70-100cm

Colour

Purple
White

Fragrance

Slight Sweet

Season

Mid

Rebloomer

Yes