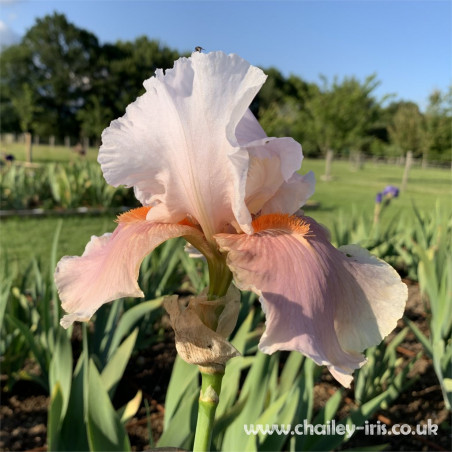  
Gladys My Love
Very Tall Bearded Iris 102cm.
Naming this iris after his wife Allan said "this iris is not perfect, but then neither is Gladys, but for 64 years she has been perfect enough for me."
Mid to Late Season flowering, late May to the end of June in the UK.
Sweet Fragrance.
Delicate Amoena blooms. Standards and style arms are white, falls are orient pink and the beards are poppy red.
Hybridised by Allan Ensminger at his Nebraska nursey (Varigay) in 1997 from multiple crosses including Magharee, Almost Gladys, Coral Beauty, Silver Showers and Chartreuse Ruffles.
Receiving an Honorable Mention in 2000.

2022 Season now Open.
Orders shipped in September.
(Allan Ensminger, R. 1997) Sdlg. 192-63. TB, 40" (102 cm), ML. S. and style arms white; F. orient pink (HCC 416); beards poppy red (16); slight fragrance. Magharee X 89-18: (86-41: (Almost Gladys x Christa) x 85-24: ((Coral Beauty x (Almost Gladys x R. Nelson sdlg.: (((Crystal Blaze x Maiden Voyage) x Silver Showers) x Chartreuse Ruffles))) x Coral Chalice)). Varigay 1998. HM 2000.
Data sheet
Height

Tall - 70-100cm

Colour

Pink
White

Fragrance

Sweet

Season

Mid-Late

Rebloomer

No
Customers who bought this product also bought: