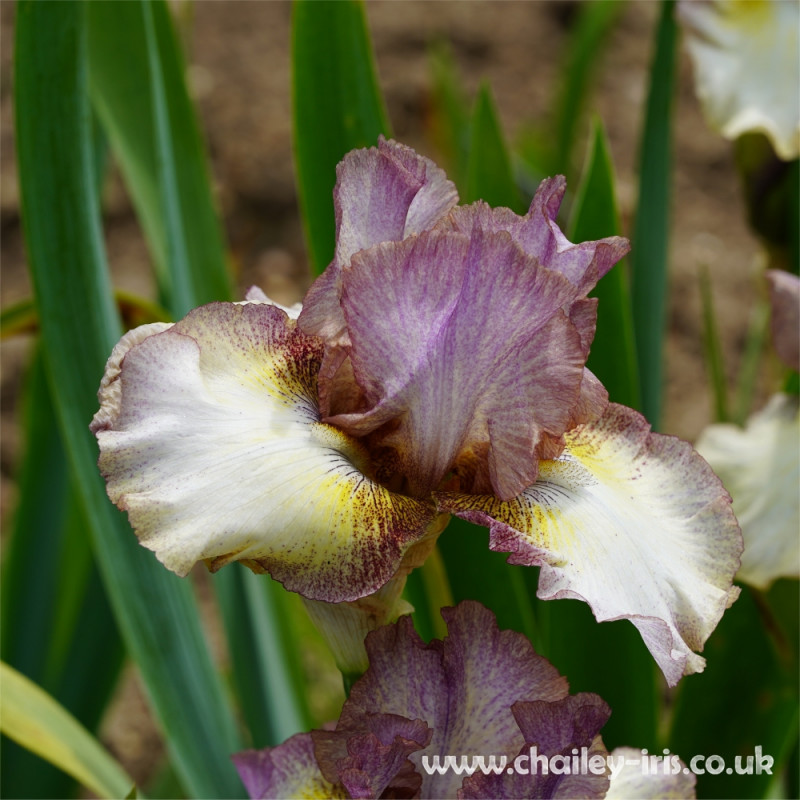  
Happy New Year
Tall Bearded Iris 89cm. Introduced by and Exclusive to Chailey Iris Garden in the UK.
Showy Early through to Mid season flowering, throughout May and June in the UK. Reblooming in Autumn.
Creamy white, finely standards sprinkled with tiny violet dots, lighter falls with yellow hafts overlaid by violet plicata markings. A white beard wit hairs tipped mustard.
Introduced by Monty Byers in 1990 from Earl of Essex, Rancho Rose and Moon Mistress. Parent to Lady Jean and I Shall Return.

** 2023 Orders are now CLOSED **
NEW ORDERS WILL BE SHIPPED IN AUTUMN 2024
(Monty Byers, R. 1989) Sdlg. D102-103. TB, 35" (89 cm), E-M & RE. Ruffled creamy white, finely spinkled with tiny violet dots overall, yellow hafts heavily overlaid with violet plicata markings; white beard tipped mustard. Earl of Essex X (Rancho Rose x Moon Mistress). Moonshine Gardens 1990.
Data sheet
Height

Tall - 70-100cm

Colour

Cream
Purple

Fragrance

None

Season

Early-Mid

Rebloomer

Yes
Customers who bought this product also bought: