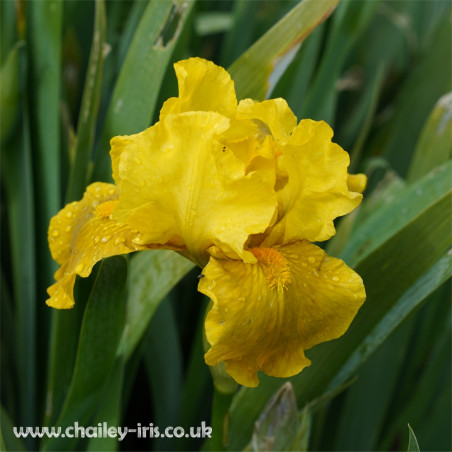  
Highlands Nugget
Intermediate Bearded Iris 51cm. An introduction by us from America. 
Early-Mid season flowering, May and June in the UK.
Sweet fragrance.

Soft gold, lightly ruffled, bitone flower with slightly browner standards than the gold yellow falls. Beards yellow ochre.
 Hybridiser Joyce Ragle in 2001 (from Dresden Canary sib X Fanfaron).

2022 Season now Open.
Orders shipped in September.
(Joyce Ragle, R. 2001) Sdlg. 93-19FAN-1. IB, 20" (51 cm), EMS. and style arms slightly browner than chrome yellow (HCC 605/1); F. bright bronzy gold (slightly browner than 605); beards yellow ochre (07); lightly ruffled; slight sweet fragrance. Dresden Canary sib X Fanfaron. Lauer 2002.
Data sheet
Height

Intermediate - 40-70cm

Colour

Yellow

Fragrance

Sweet

Season

Early-Mid

Rebloomer

No
Customers who bought this product also bought: