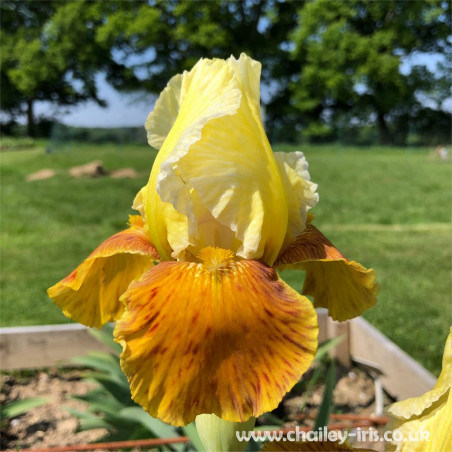  
Honey Glazed
Intermediate Historic Bearded Iris 61cm.
Strong grower with magnificent branching and bud count, a favourite of many iris lovers.
Mid Season flowering, late May to the end of June at least in the UK. Normally Reblooms for us in Sussex.
Slight sweet fragrance.
The standards are a bright lemon cream and the falls are an amber caramel blend. Yellow beards. 
Hybridised by David Niswonger in 1982 from (Beau x Celestial Doll) X Turtle Dove.
Receiving an Honorable Mention in 1985, Award of Merit in 1987 and the Hans and Jacob Sass Medal winner in 1998.

2022 Season now Open.
Orders shipped in September.
(O. D. Niswonger, R. 1982) Sdlg. IB 9-80. IB, 24" (61 cm), MS. cream; F. amber; gold beard. SDB 2-77: (Beau x Celestial Doll) X Turtle Dove. Cape Iris 1983. HM 1985, AM 1987, Sass Medal 1998.
Data sheet
Height

Intermediate - 40-70cm

Colour

Orange
Yellow

Fragrance

Slight Sweet

Season

Mid

Rebloomer

No
Customers who bought this product also bought: