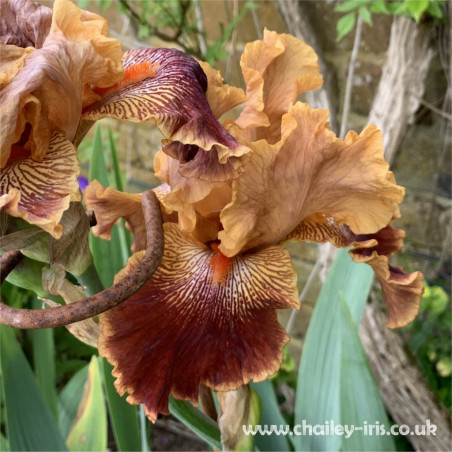  
Art Show
Tall Bearded Iris 86cm.
Mid Season flowering, May and June in the UK.
Sweet Fragrance.
Copper brown standards blended peach beige except toward the edge. Rich dark maroon falls with copper edge and upper third.
Hybridised by Keith Keppel in 1989 from Rustler X Rustic Dance.

2022 Season now Open.
Orders shipped in September.
(Keith Keppel, R. 1989) Sdlg. 84-60B. TB, 34" (86 cm), M. S. maise (M&P 10-G-5) blended peach beige (11-A-6) except toward edge; F. cordovan (7-J-11) with 1/4" maise edge, upper third maise, striped cordovan; mikado (2-B-12) beard; slight sweet fragrance. Rustler X Rustic Dance. Roris 1990.
Data sheet
Height

Tall - 70-100cm

Colour

Brown
Purple

Fragrance

Sweet

Season

Mid

Rebloomer

No
Customers who bought this product also bought: