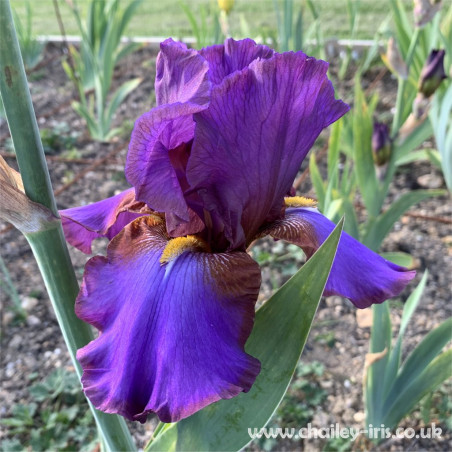  
Ididit
Tall Bearded Iris 91-97cm.
Mid Season flowering, May-June in the UK.
Musky Fragrance.
Lightly ruffled tailored blooms. Dark lavender standards, lightly blended rusty lavender at the edge. The falls are also dark lavender but edged rusty lavender with rusty brown shoulders. Mustard yellow beards.
Hybridised by Oscar Schick in 1996 from Bateau Ivre X Collage.
Receiving an Honourable Mention in 2001.

2022 Season now Open.
Orders shipped in September.
(Oscar Schick, R. 1996) Sdlg. 91-27 B07. TB, 36-38" (91-97 cm), M. S. dark lavender (RHS 83C), lightly blended rusty lavender at edge; style arms light rusty lavender; F. dark lavender edged rusty lavender, shoulders rusty brown (178B); beards mustard yellow; lightly ruffled; slight musky fragrance. Bateau Ivre X Collage. Stockton 1997. HM 2001.
Data sheet
Height

Tall - 70-100cm

Colour

Blue
Purple

Fragrance

Musky

Season

Mid

Rebloomer

No
Customers who bought this product also bought: