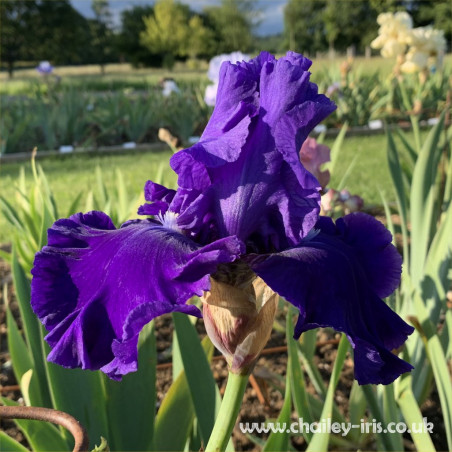  
Indigo Princess
Tall Bearded Iris 99cm. 
Mid - Late Season flowering, May and June in the UK.
Beautifully ruffled deep violet Self blooms with yellow beards, tipped blue.
Hybridised by Schreiner in 1992 from multiple crosses including Breakers ,St. Louis Blues, Neptune's Pool,Navy Strut, Fuji's Mantle
Receiving an Honourable Mention in 1994 and an Award of Merit in 1997 .

2022 Season now Open.
Orders shipped in September.
(Schreiner, R. 1992) Sdlg. V 51-A. TB, 39" (99 cm), ML. Ruffled deep violet (RHS 89C); beards yellow, tipped blue. Breakers X P 81-A: (L 37-4 : (G 11-1, St. Louis Blues sib, x I 144-18: (G 1517-B x Neptune's Pool)) x L 93-5: ((Navy Strut x E 1313-A) x (Fuji's Mantle x Matinata))). Schreiner 1992. HM 1994, AM 1997 .
Data sheet
Height

Tall - 70-100cm

Colour

Purple

Fragrance

None

Season

Mid-Late

Rebloomer

No
Customers who bought this product also bought: