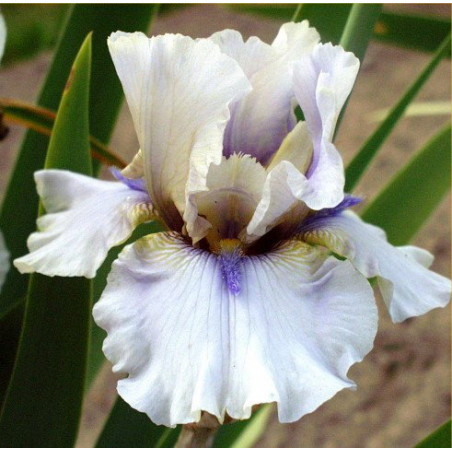  
Iron Eagle
Tall Bearded Space Age Iris 94cm.
As soon as I saw this understated iris at Sutton's nursery in Idaho I knew it would be a favourite at our nursery. Great colour, fragrant and reblooming.
Mid to Late Season flowering, May and June in the UK. Reliable Reblooming in Autumn.
Musky Fragrance.
Off-white standards with an antique gold midrib, style arms and falls are a pale lavender white. Bright gold beards sit above a blue base and striking horns.
Hybridised by George Sutton in 1999 from  Cloud Baron X Dashing.
Receiving an Honourable Mention in 2004.

2022 Season now Open.
Orders shipped in September.
(George Sutton, R. 1999) Sdlg. H-214. TB, 37" (94 cm), ML & RES. off-white, antique gold midrib; style arms pale lavender white; F. pale lavender white, near light grey; beards antique gold, confederate blue base and horn; slight musky fragrance. Cloud Baron X Dashing. Sutton 2000. HM 2004.
Data sheet
Height

Tall - 70-100cm

Colour

White

Fragrance

Musky

Season

Early-Mid

Rebloomer

Yes
Customers who bought this product also bought: