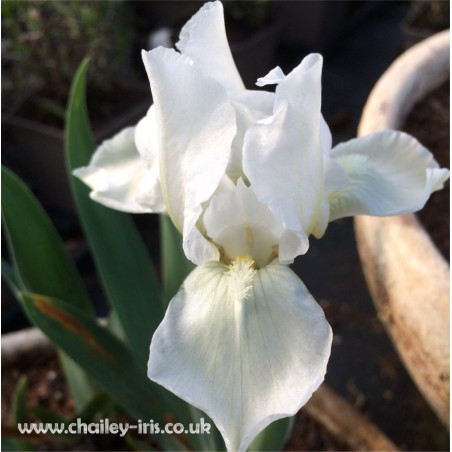  
Lilli-White
Historic Award-Winning Standard Dwarf Bearded iris 30cm
Late season flowering, Mid to late June in the UK.
Showy blooms in pure white.
An historic iris introduced by the founder of the Dwarf Iris Society Walter Welch in 1958 from Blue Shimmer, Carpathia, Boquet and others.
Parent of more than 15 child varieties.
Honourable Mention 1958, Cook-Douglas Award 1964 the highest award for s SDB iris.

2022 Season now Open.
Orders shipped in September.
(W. Welch, R. 1957) Sdlg. L-56i. SDB, 12" (30 cm), L. Pure white self, white beard. (Blue Shimmer x Carpathia) x J-538: (Bouquet x (Fiancee x Fairy)). Welch 1958. HM 1958, Cook-Douglas Award (AM) 1964.
Data sheet
Height

Dwarf - 26-40cm

Colour

White

Fragrance

None

Season

Late

Rebloomer

No
Customers who bought this product also bought: