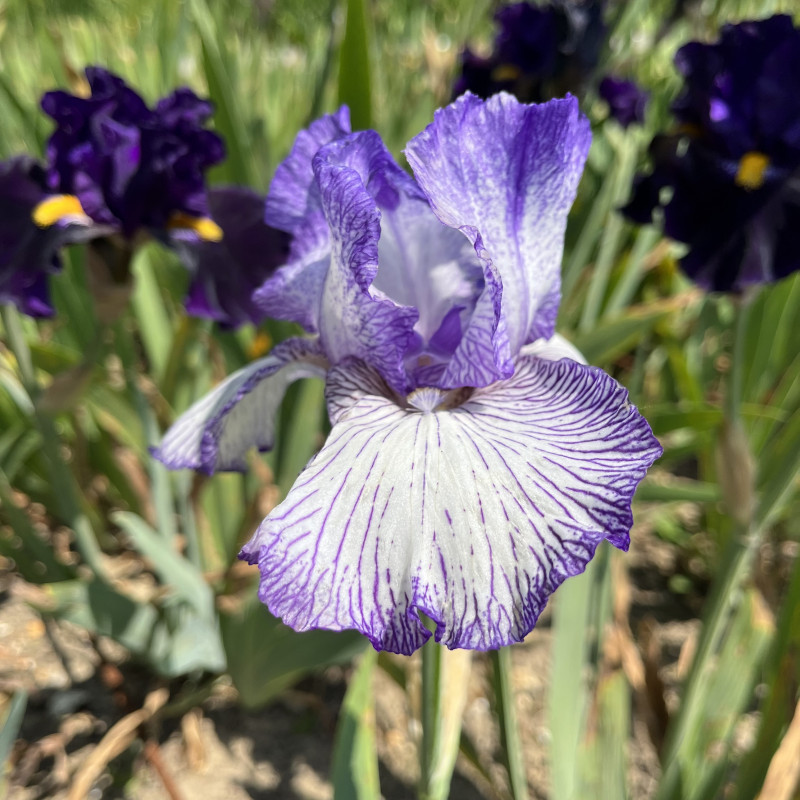  
Autumn Circus
Spectacular Tall Bearded iris 86cm, that will rebloom for months.
One of the earliest Early season flowering iris, May in the UK and reblooming intermittently through into Autumn. 
Showy plicata flowers in violet and white. White standards lightly peppered blue-violet to the solid edge, white falls with bold violet lines radiating from beard and a blue-violet plicata edge. 
Introduced by Ben Hager in 1990 from Space Odyssey, Socalite and Earl of Essex. Parent to Bay of Plenty, Siumbolon and others.
Honorable Mention in 1994.

** 2023 Orders are now CLOSED **
NEW ORDERS WILL BE SHIPPED IN AUTUMN 2024
(Ben Hager, R. 1990) Sdlg. RE4889StpPc. TB, 34" (86 cm), E & RE (Sept-Oct/CA). S. white, lightly peppered blue violet to solid edge; style arms deep violet; F. white, bold lines radiating from white beard, blue violet plicata edge. T3711Pc: (Space Odyssey x Socialite) X Earl of Essex. Melrose 1990. HM 1994.
Data sheet
Height

Tall - 70-100cm

Colour

Purple
White

Fragrance

None

Season

Early

Rebloomer

Yes
Customers who bought this product also bought: