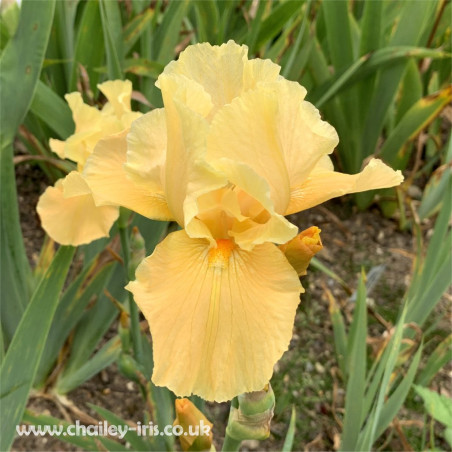  
Marmalade Skies
Historic Border Bearded Iris 69cm.
Early Season flowering, May in the UK.
Slightly ruffled apricot-orange blooms Bitone with a pink tinge. Orange beards.
Hybridised by David Niswonger in 1978 from multiple crosses including Java Dove, Happy Birthday, Glittering Amber. Giving rise to over 60 children.
Receiving an Honourable Mention in 1980, Award of Merit in 1982 and the coveted Knowlton Medal in 1984.

2022 Season now Open.
Orders shipped in September.
(O. D. Niswonger, R. 1978) Sdlg. 11-72. BB, 27" (69 cm), E. Apricot orange with pink tinge on S.; slightly ruffled F.; orange beard. 92-69: (Java Dove x 24-66: ((Happy Birthday x Glittering Amber) x Marilyn C)) X Sunset Snows. Niswonger 1978. HM 1980, AM 1982, Knowl 1984.
Data sheet
Height

Border - 40-68cm

Colour

Orange

Fragrance

None

Season

Early

Rebloomer

No
Customers who bought this product also bought: