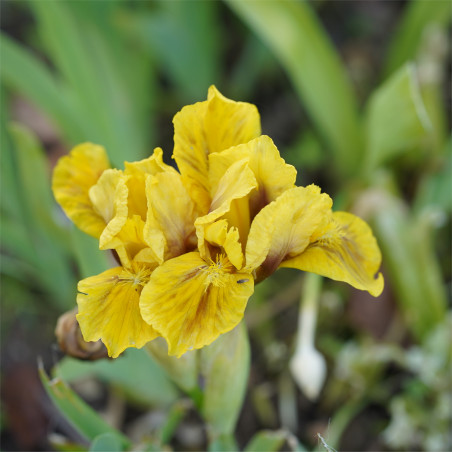  
Mister Roberts
Historic Standard Dwarf Bearded iris 30cm.
A stunning little Historic yellow-self late-season flower. Ruffled glowing deep yellow falls, standard and beard.
We have brought this iris from the award-winning Anthony & Dorothy Willott in Ohio, USA, who has introduced some of the greatest irises of the late 20th Century. They were honoured by the American Iris Society with the Hybridizer Award in 1999.
Hybridised from Inca Star X Happy Halo. First listed in their 1978 catalogue.
Awarded an Honourable Mention in 1981 and Award of Merit in 1984.

2022 Season now Open.
Orders shipped in September.
(A. & D. Willott, R. 1978) Sdlg. 77-40. SDB, 12" (30 cm), L. Ruffled deep yellow self; deep yellow beard. Inca Star X Happy Halo. Willott 1979. HM 1981, AM 1984.
Data sheet
Height

Dwarf - 26-40cm

Colour

Yellow

Fragrance

None

Season

Late

Rebloomer

No
Customers who bought this product also bought: