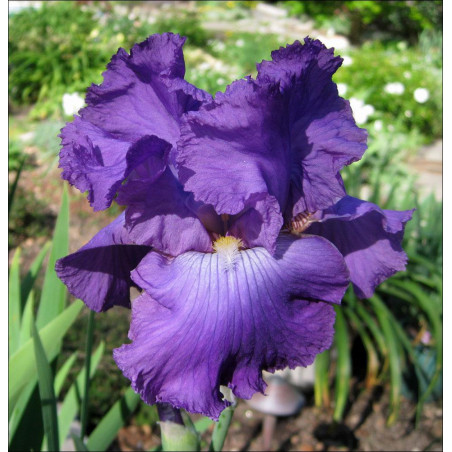  
Mulberry Memories
Very rare Tall Bearded Iris 94cm. Brought to the UK by Chailey Iris Garden.
Mid to late Season flowering, May and June in the UK. Reliable reblooming in August/September.
Pronounced sweet fragrance.
Self bloom with delicate laced and serrated edges. Mulberry violet falls with pale areas around the beards which are violet with orange-yellow in the throat.
Hybridised by George Sutton in 2001 from Clarence x (Mulberry Mist x Bethany Claire).
Tall Bearded Iris Society award in 2002.

2022 Season now Open.
Orders shipped in September.
(George Sutton, R. 2001) Sdlg. H-57-A-RE. TB, 37" (94 cm), ML & RE. Mulberry to aster violet (RHS 87A), F. with pale area around beard; beards palest violet, orange yellow in throat; ruffled, edges lightly laced and serrate; pronounced sweet fragrance. Clarence X F-49: (Mulberry Mist x Bethany Claire). Sutton, Tall Bearded Iris Society 2002.
Data sheet
Height

Tall - 70-100cm

Colour

Purple

Fragrance

Pronounced Sweet

Season

Mid-Late

Rebloomer

Yes
Customers who bought this product also bought: