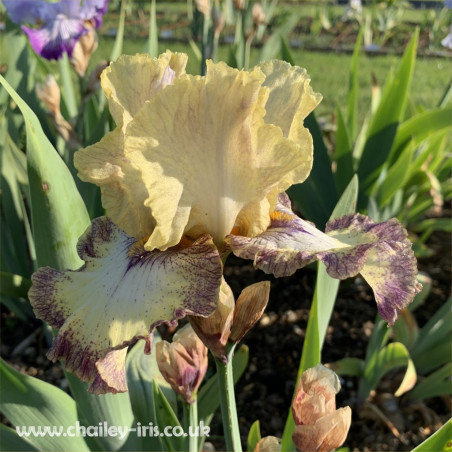  
Ominous Stranger
A stunning, head turning Tall Bearded Iris 86cm.
Mid Season flowering, May and June in the UK.
Sweet spicy Fragrance.
Plicata blooms with muted yellow standards trimmed red-violet-blue-purple with brownish dots throughout the yellow. Bronze beards trimmed blue white. Excellent branching.
Hybridised by Sterling Innerst in 1992  from Point Made X sib.
Receiving an Honorable Mention in 1995 and an Award of Merit in 1997.

2022 Season now Open.
Orders shipped in September.
(Sterling Innerst, R. 1992) Sdlg. 3103-7. TB, 34" (86 cm), M. S. muted yellow, trimmed muted purple and dotted with tiny brown spots; F. muted yellow, trimmed muted purple, tiny brown dots all over; beards bronze, trimmed blue white; slight fragrance. Point Made X sib. Innerst 1993. HM 1995, AM 1997 .
Data sheet
Height

Tall - 70-100cm

Colour

Brown
Purple
Yellow

Fragrance

Spicy
Sweet

Season

Mid

Rebloomer

No
Customers who bought this product also bought: