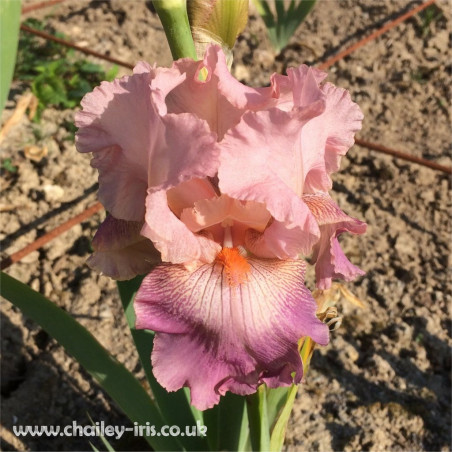  
Pink Matters
Tall Bearded Iris 86cm.
Mid Season flowering, May and June in the UK.
Pink standards with style arms in a peach-pink. Rich deep pink falls with pink veining a white area around the beard and a rich pink line down the centre of the falls. Beards are red-orange.
Hybridised by Margie Valenzuela in 2013 from multiple crosses (see Description tab for details).
We have introduced this fabulous iris to the UK from our colleague, Nola's nursery in California.

2022 Season now Open.
Orders shipped in September.
(Margie Valenzuela, R. 2013) Sdlg. PPSF-07-09. TB, 34" (86 cm), MS. pink; style arms peach-pink; F. rich deep pink, pink veining, white area around beard, rich pink line down center of falls; beards red-orange. DC-05-8: (Double Click x 20205-01: (02-98: (Pencil Sketch x Sapphire Hills) x Flights of Fancy)) X Spring Fling. Nola's 2013.
Data sheet
Height

Tall - 70-100cm

Colour

Pink

Fragrance

None

Season

Mid

Rebloomer

No
Customers who bought this product also bought: