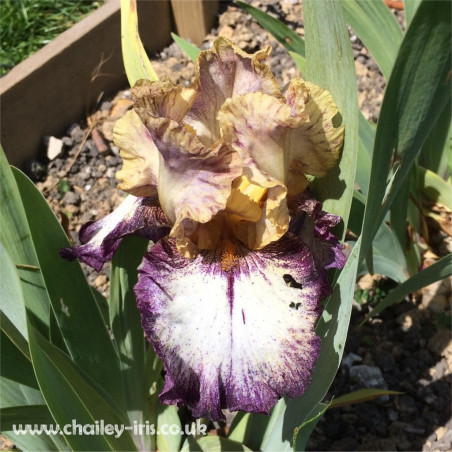  
Point Made
Tall Bearded Iris 81cm. Introduced by and Exclusive to Chailey Iris Garden in the UK.
Early to Mid Season flowering, May and June in the UK.
Sweet Fragrance.
Bronze gold standards. Creamy white falls trimmed and speckled plum overall. Bronze plum beards. Purple-based foliage.
Hybridised by Sterling Innerst in 1987 from Burgundy Brown X Spinning Wheel.
Receiving an Honorable Mention in 1990.

2022 Season now Open.
Orders shipped in September.
(S. Innerst, R. 1987) Sdlg. 1976-10. TB, 32" (81 cm), E-MS. bronze gold; F. creamy white, trimmed and speckled plum blue black overall; bronze plum beard; slight sweet fragrance. Burgundy Brown X Spinning Wheel. Innerst 1988. HM 1990.
Data sheet
Height

Tall - 70-100cm

Colour

Cream
Purple
White

Fragrance

Sweet

Season

Early-Mid-Late

Rebloomer

No
Customers who bought this product also bought: