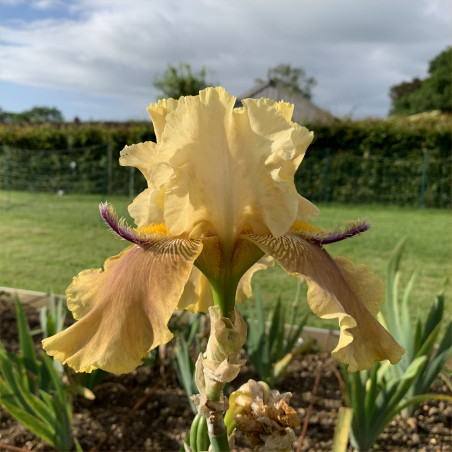  
Praetorian Guard
Very Tall Bearded Space Age Iris 107cm.
Mid Season flowering, May and June in the UK.
Unusual Blend blooms. Light yellow standards edged darker with faint green veining. The style arms are lemon yellow with a deeper yellow on the edges and midrib. Lemon yellow falls with a darker border and lavender veining. Beards are orange yellow with lavender horns tipped yellow.
Hybridised by LeRoy Meininger in 1998 from Matinee Idol X Twice Thrilling.

2022 Season now Open.
Orders shipped in September.
(LeRoy Meininger, R. 1998) Sdlg. 91-TwTh-91. TB, 40" (107 cm), M. S. light yellow, edged darker, faint green veining; style arms lemon yellow, edges and midrib deeper; F. lemon yellow, darker border, lavender veining; beards orange yellow, 1/2" lavender horn tipped yellow. Matinee Idol X Twice Thrilling. Monument, Woodland Iris 1998.
Data sheet
Height

Tall - 70-100cm

Colour

Yellow

Fragrance

None

Season

Mid

Rebloomer

No
Customers who bought this product also bought: