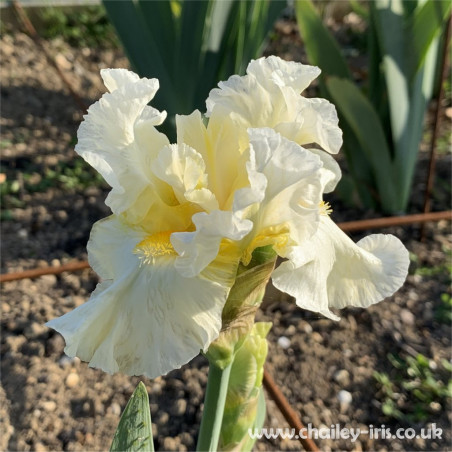  
Princess Bride
Border Bearded Iris 64cm.
Mid - Very Late Season flowering, May-June into early July in the UK.
Spicy Fragrance.
Fluted Bicolour blooms. White standards with a cream-yellow midrib,  the style arms are more a creamy white. White falls with yellow hafts. The beards are bright yellow with a creamy white at the end.
Hybridised by the late George Sutton in 1999 from Elizabeth Poldark x (Bubble Up x Elizabeth Poldark).
We first saw this iris in Sutton's own garden and catalogue in 2000, bringing it back to the UK.
Receiving an Honourable Mention in 2004.

2022 Season now Open.
Orders shipped in September.
(George Sutton, R. 1999) Sdlg. H-220 C. BB, 25" (64 cm), ML-VL. S. white, midrib cream yellow; style arms creamy white; F. white, hafts yellow; beards bright yellow orange, creamy white at end; fluted; slight spicy fragrance. Elizabeth Poldark X F-3: (Bubble Up x Elizabeth Poldark). Sutton 2000. HM 2004.
Data sheet
Height

Intermediate - 40-70cm

Colour

White
Yellow

Fragrance

Pronounced Spicy

Season

Mid-Late

Rebloomer

Yes
Customers who bought this product also bought: