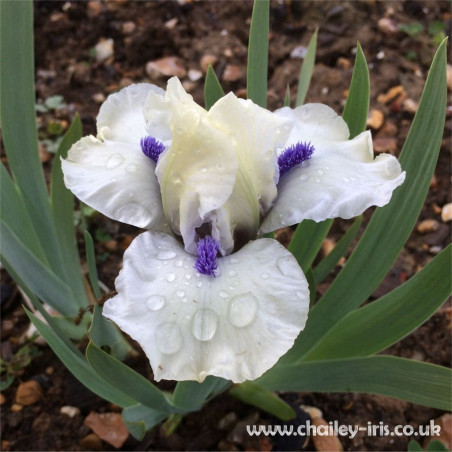  
Bluebeard's Ghost
Award Winning Standard Dwarf Bearded Iris 37cm.
One of the best known and popular dwarf iris.
Mid-Late Season flowering, May and June in the UK.
Slight sweet fragrance.
Beautifully ruffled white standard and style arms. The standards have fine green-gold veins along the rib networking outward. The white falls have a very fine network of greenish veins. The beard is a contrasting dark indigo.
Hybridised by the Paul Black in 2006 from Island Sun sib, X Experiment at his own Mid America Nursery in Oregon. Paul is a noted hybridizer who has been creating quality irises for 40 years.
Honourable Mention and the Fred Walther Cup in 2008, Award of Merit 2010 and the top award for SBD iris; Cook Douglas Medal in 2012.

2022 Season now Open.
Orders shipped in September.
(Paul Black, R. 2006) Sdlg. L340A. SDB, 14.5" (37 cm), MLS. and style arms white, S. fine green-gold veins up rib networking outward; F. white, very fine network of greenish texture veins; beards dark indigo; ruffled; slight sweet fragrance. I293C, Island Sun sib, X Experiment. Mid-America 2006. HM 2008, AM 2010, Cook 2012.
Data sheet
Height

Standard Dwarf - 20-38cm

Colour

White

Fragrance

Sweet

Season

Mid-Late

Rebloomer

No
Customers who bought this product also bought: