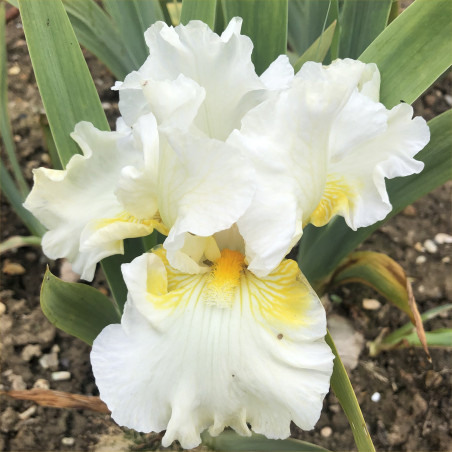  
Be a Dream
Tall Bearded Iris 89cm. Probably unique to Chailey Iris Garden.
Mid to Late Season flowering, late May through to early July in the UK.
The American Iris Society commented: "This warm white with golden hafts should do well on the show bench as well as in the garden. It is nicely branched and has ripples in the falls around the beards. When considered altogether.... it has a very nice personality."
Fluted blooms in warm white, the falls with golden hafts and yellow beards.
Hybridised by David Niswonger in 1992 from Wavedight X 47-83: (Premonition x Coral Beauty).
Receiving an Honorable Mention in 1994.

2022 Season now Open.
Orders shipped in September.
(O. D. Niswonger, R. 1992) Sdlg. 77-89. TB, 35" (89 cm), M-L. Warm white, F. with golden hafts; beards yellow; rippled, waved. Coral Light X 47-83: (Premonition x Coral Beauty). Cape Iris 1992. HM 1994.
Data sheet
Height

Tall - 70-100cm

Colour

White

Fragrance

None

Season

Mid-Late

Rebloomer

No
Customers who bought this product also bought: