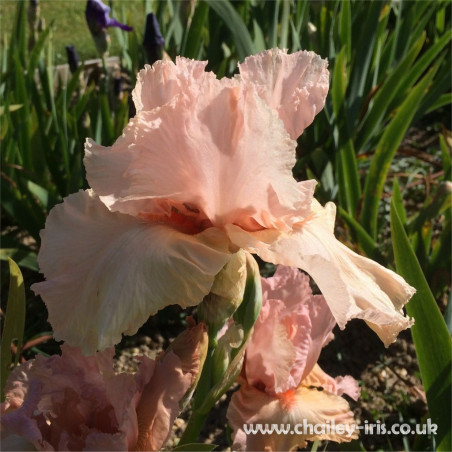  
Rare Occasion
Tall Bearded Iris 91cm.
Mid Season flowering, May-June in the UK.
Pronounced Sweet Fragrance.
Broad, lightly ruffled and laced peach pink Self blooms with falls overlapping at the hafts, shirred and ruffled down the sides. Beards lavender-pink at tips, changing to pinkish orange and tile red in the flower heart.
Hybridised by Joseph Gatty, Keith Keppel in 1992  from multiple crosses including (Pretty Lady x (Nefertiti x Playgirl) X Presence.
Receiving an Honourable Mention in 1996, and an Award winner at the Moscow International TB iris Competition in 1998.

2022 Season now Open.
Orders shipped in September.
(Joseph Gatty by Keith Keppel, R. 1992) Sdlg. T23-6. TB, 36" (91 cm), M. S. peach (M&P 9-A-5); F. slightly paler (9-AB-4), hafts suffused capucine buff (9-E-5); beards grenadine red (1-D-11) to carnelian red (2-E-1), ibis pink (1-B-10) at end; pronounced sweet fragrance. O19-1: (Pretty Lady x K55-1: (Nefertiti x Playgirl)) X Presence. Keppel 1994. HM 1996.
Data sheet
Height

Tall - 70-100cm

Colour

Pink

Fragrance

Pronounced Sweet

Season

Mid

Rebloomer

No
Customers who bought this product also bought: