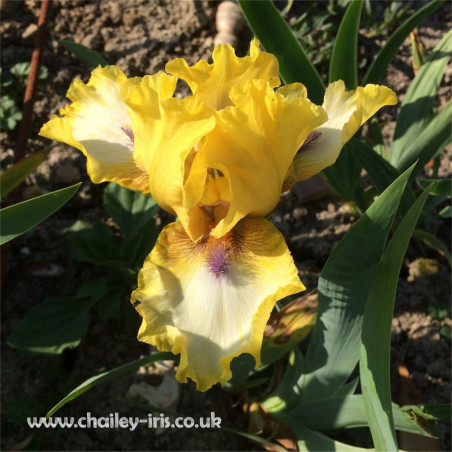  
Abbey Chant
Intermediate Space Age Iris 64cm. A real crowd pleaser. 
Introduced by and Exclusive to Chailey Iris Garden in the UK.
Very Early flowering, late April and May in the UK. Re-blooming in Autumn.
Pronounced Musky Fragrance.
Standards and styles are bright yellow. The falls are white with light yellow hafts and edges. Violet beards are orange in the throat ending in bright violet horns.
Hybridised by George Sutton in 1997 from Aaron's Dagger X Chanted.

2022 Season now Open.
Orders shipped in September.
(George Sutton, R. 1997) Sdlg. H-86. IB, 25" (64 cm), VE & RES. and style arms bright yellow (RHS 7A); F. white, hafts and 1/2" edge lighter yellow (7C); beards violet (83B) at end, spanish orange (26) in throat, all hairs tipped cream, beard ending with violet blue horn; ruffled; pronounced musky fragrance. Aaron's Dagger X Chanted. Sutton 1998.
Data sheet
Height

Intermediate - 40-70cm

Colour

Yellow

Fragrance

Pronounced Musky

Season

Early

Rebloomer

Yes
Customers who bought this product also bought: