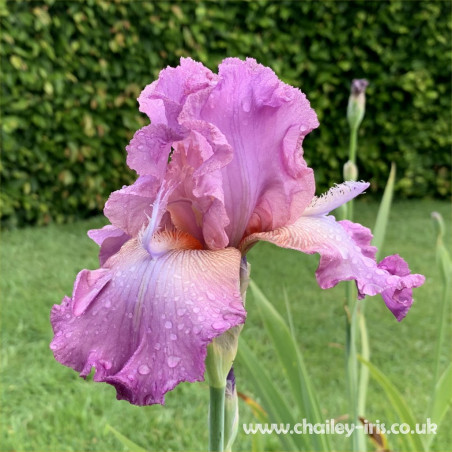  
Reincarnation
An iris that ticks it all the boxes, colour, scent, repeat flowering and a perfect show stalks of up to 12 flowers, a florists dream.
Tall Bearded Space Age Iris 93cm.
Mid Season flowering, May and June in the UK, reliable re blooming in late August - September.
Pronounced Sweet Scent.
Heavily ruffled medium mulberry blooms blended pink at the hafts.Orange red beard with fuzzy mulberry horns on the early blooms.
Hybridised and introduced by Monty Byers in 1989 from Vanity X Moonlit. 

2021 Season now Closed.
New orders shipped in September 2022.
(Monty Byers, R. 1989) Sdlg. D94-1DO. TB, 37" (93 cm), M & RE. Heavily ruffled medium mulberry, blended pink at hafts; orange red beard, fuzzy mulberry horns on spring bloom; pronounced sweet fragrance. Vanity X Moonlit. Moonshine Gardens 1989.
Data sheet
Height

Tall - 70-100cm

Colour

Pink

Fragrance

Pronounced Sweet

Season

Mid

Rebloomer

Yes
Customers who bought this product also bought: