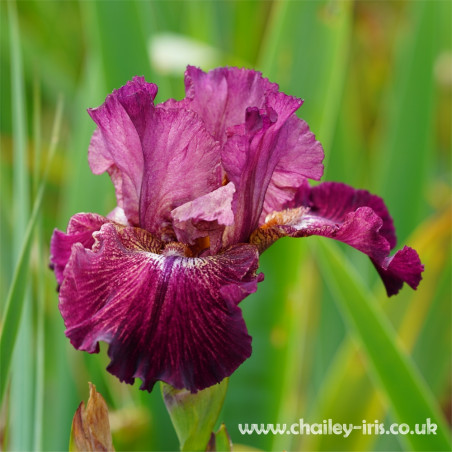  
Return to Sender
Tall Bearded Iris 94cm.
Mid Season flowering, May and June in the UK. Reblooming in the Autumn.
Pronounced Sweet Fragrance.
Cyclamen purple standards with a darker midrib and a hint of white. The style arms are greyed mallow purple. Falls are a deeper purple with cream striations and a slight centre stripe. Beards have white hairs tipped pale violet-blue at the end and deep yellow in the throat.
Introduced by Joseph Ghio in 2000 from Double Vision pod parent, X Skipalong.
Thankfully we brought this iris from Maryott's Gardens in Oregon, before they moved away from iris to focus on Hemerocallis.
Receiving an Honourable Mention in 2004.

2022 Season now Open.
Orders shipped in September.
(Joseph Ghio by William Maryott, R. 2000) Sdlg. 94-45-S. TB, 37" (94 cm), M & RES. cyclamen purple (RHS 74B), darker midrib, hint of white ground; style arms greyed mallow purple (72B); F. deeper (72A), with cream striations and slight center stripe; beards white, hairs tipped pale violet blue at end, deep yellow in throat; pronounced sweet fragrance. 92-67F, sib to Double Vision pod parent, X Skipalong. Maryott 2000. HM 2004.
Data sheet
Height

Tall - 70-100cm

Colour

Purple
White

Fragrance

Pronounced Sweet

Season

Mid

Rebloomer

Yes
Customers who bought this product also bought: