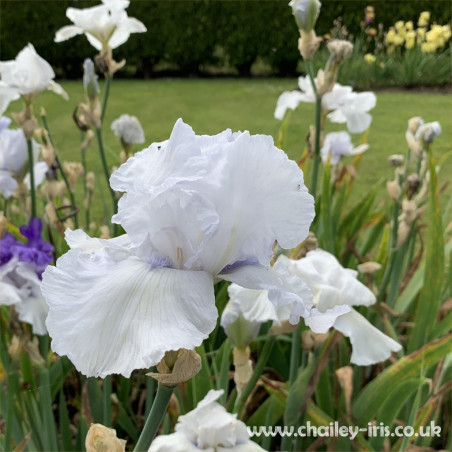  
Sea World
Tall Bearded Iris 89cm 
Introduced from the USA to the UK by Chailey Iris Garden
A stunning re-blooming, musky fragrant iris for every garden.
Flowering Early, Mid and Late Season, so that's May and June, then reblooming in late August.
The ruffled blooms appear almost white with very light blue standards misted pale green at the midrib; very light blue falls, greenish shoulders and very light greenish misting in the centre. The blue beard is tipped yellow in the throat.
Hybridised by the great Monty Byers in 1989 from Rio Vista, Cease-Fire and Sky Hooks crosses. First appearing in his own Moonshine Gardens catalogue in 1990.

2022 Season now Open.
Orders shipped in September.
(Monty Byers, R. 1989) Sdlg. D160-103. TB, 35" (89 cm), EM-M & RE. S. light blue misted pale green at midrib; F. light blue, greenish shoulders, pale greenish misting in center; blue beard tipped yellow in throat; ruffled; slight musky fragrance. Rio Vista X B-8-2: (Cease-Fire x Sky Hooks). Moonshine Gardens 1990.
Data sheet
Height

Tall - 70-100cm

Colour

White

Fragrance

Pronounced Musky

Season

Early-Mid-Late

Rebloomer

Yes
Customers who bought this product also bought: