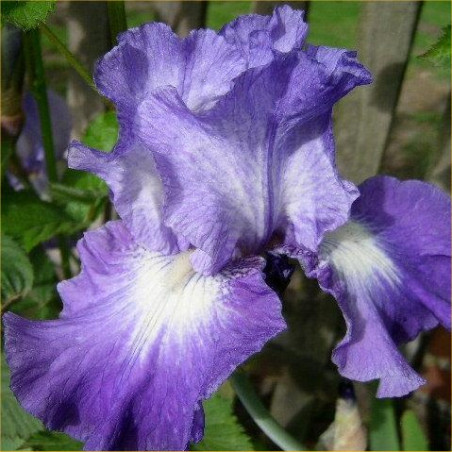  
Suky
Tall Bearded Iris 94cm.
Probably one of my favourite iris....
Early to Mid Season flowering, May and June in the UK. Reliable reblooming late in autumn.
Pronounced Spicy Fragrance.
Ruffled white standards with a violet edge and midrib. Violet falls with a very large pure white area. White beards that are yellow deep in the throat. 
Hybridised by the much admired, respected and sadly missed, Clarence Mahan in 1988 from Violet Miracle X Victoria Falls. Named after his wife.
A marvellous bloom we first saw at Clarence's own nursery 'The Iris Pond' back in 1991.
Receiving an Honourable Mention in 1993 and an Award of Merit in 1995.

2022 Season now Open.
Orders shipped in September.
(Clarence Mahan, R. 1988) Sdlg. 186-1. TB, 37" (94 cm), EMS. white, flushed light violet (RHS 86B) around edge, violet midrib; F. medium to deep violet (83B), very large pure white zonal area extending from hafts to nearly halfway down; white beard, yellow deep in throat; ruffled; pronounced spicy fragrance. Violet Miracle X Victoria Falls. Iris Pond 1991. HM 1993, AM 1995 .
Data sheet
Height

Tall - 70-100cm

Colour

Purple
White

Fragrance

Pronounced Spicy

Season

Early-Mid

Rebloomer

Yes