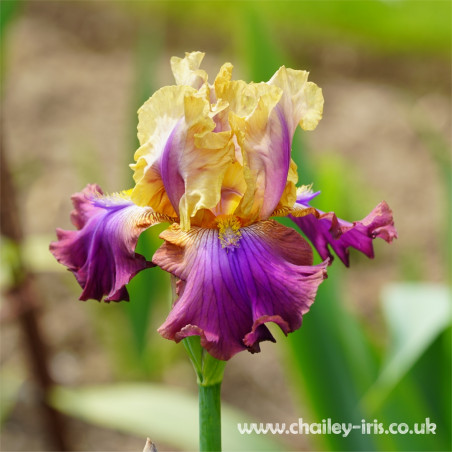  
Trillion
A head-turner in any border!
Tall Bearded Space Age Iris 91cm.
Mid to late Season flowering, May and June in the UK.
Musky Fragrance.
Yellow standard with dark violet veining and violet midrib. Rose falls with a raspberry violet wash. Violet beards tipped yellow, with violet horns.
Hybridised by Elaine Bessette in 1996 from Edith Wolford x M. Byers space-age seedling.
Honourable Mention 2004.

2022 Season now Open.
Orders shipped in September.
(Elaine Bessette, R. 1996) Sdlg. EWMBS 92-12. TB, 36" (91 cm), ML. S. yellow (RHS 162B), darker toward edge, dark violet (83B) veining, red violet (77B) midrib wash; style arms yellow (162B), violet (85B) sides; F. blended rose brown (near 183D), raspberry violet (77A) wash from center to near edge, golden shoulder flush over white, violet (83B) streak from beard to edge; beards violet, tipped yellow, golden yellow in throat, 3/4" violet horn; ruffled; slight musky fragrance. Edith Wolford X M. Byers space-age sdlg. Aitken 2000. HM 2004.
Data sheet
Height

Tall - 70-100cm

Colour

Purple
Yellow

Fragrance

Musky

Season

Mid-Late

Rebloomer

No
Customers who bought this product also bought: