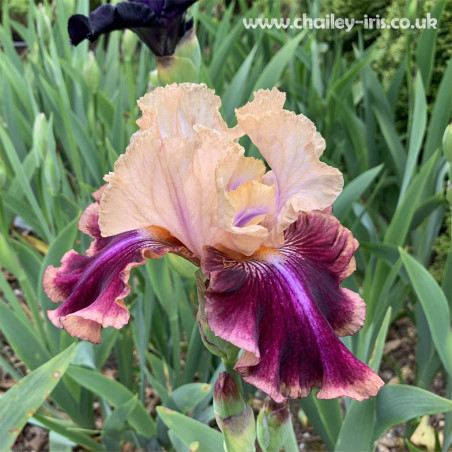  
Twice Told
Tall Bearded Iris 86-91cm.
Introduced to the UK by Chailey Iris Garden from the USA.
Flowering Mid Season and re blooming in August/September in most areas of the UK.
The bi-colour bloom standards are light beige with slight maroon at the midrib. The falls are velvety red maroon and the beard is tangerine.
Hybridised by the award winning William Maryott in 1994 from multiple crosses including Latin Lover, Victorian Days, Keppel and Cameo Wine.

2022 Season now Open.
Orders shipped in September.
(William Maryott, R. 1994) Sdlg. L172D. TB, 34-36" (86-91 cm), M & RE. S. flesh to light beige, slight maroon at midrib; F. velvety medium red maroon; beards tangerine. H92B: (F154D: ((Latin Lover x Victorian Days) x Keppel 74-32E: ((Roundup x Artwork sib) x Osage Buff)) x E31D: ((Dream Fantasy x Pink Sleigh) x Heather Blush)) X Cameo Wine. Maryott 1994.
Data sheet
Height

Tall - 70-100cm

Colour

Cream
Purple
Red

Fragrance

None

Season

Mid

Rebloomer

Yes
Customers who bought this product also bought: