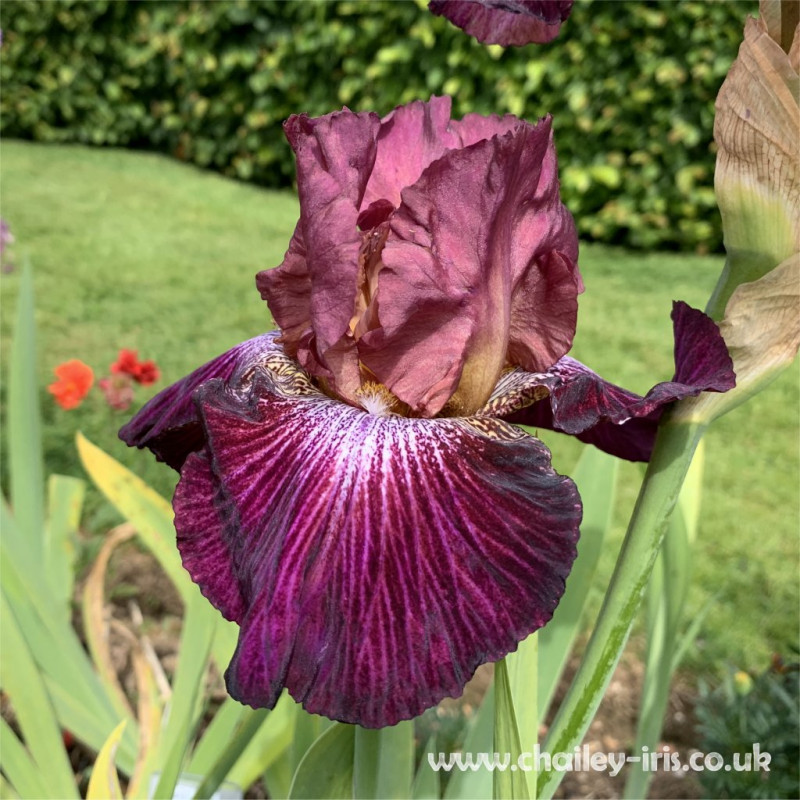  
Vibrations
Tall Bearded Iris 86cm. A very fancy plicata, loved by florists with its strong branched stems.
Mid Season flowering, May and June in the UK.
Burgundy rose standards with a lighter heart at the base. Deep burgundy red falls, large white area below the beard and radiating lines on the edge. Tan beards.
Hybridised by Mary Dunn in 1989 from multiple crosses, see Description tab for details.
We first saw this eye catching iris at Mary's nursery, MAD Garden, in California and thought it special enough to bring to the UK.
Receiving an Honorable Mention in 1992 and an Award of Merit in 1996 .
(Mary Dunn, R. 1989) Sdlg. M80-701A. TB, 34" (86 cm), M. S. burgundy rose, lighter heart at base; F. deep burgundy red, large white area below beard and radiating lines on edge; tannish beard. B73-416: (M68-302: (Vaudeville x (Gracie Pfost x Melodrama)) x Gala Madrid) X Rancho Rose. MAD Garden 1990. HM 1992, AM 1996 .
Data sheet
Height

Tall - 70-100cm

Colour

Pink
Red

Fragrance

None

Season

Mid

Rebloomer

No