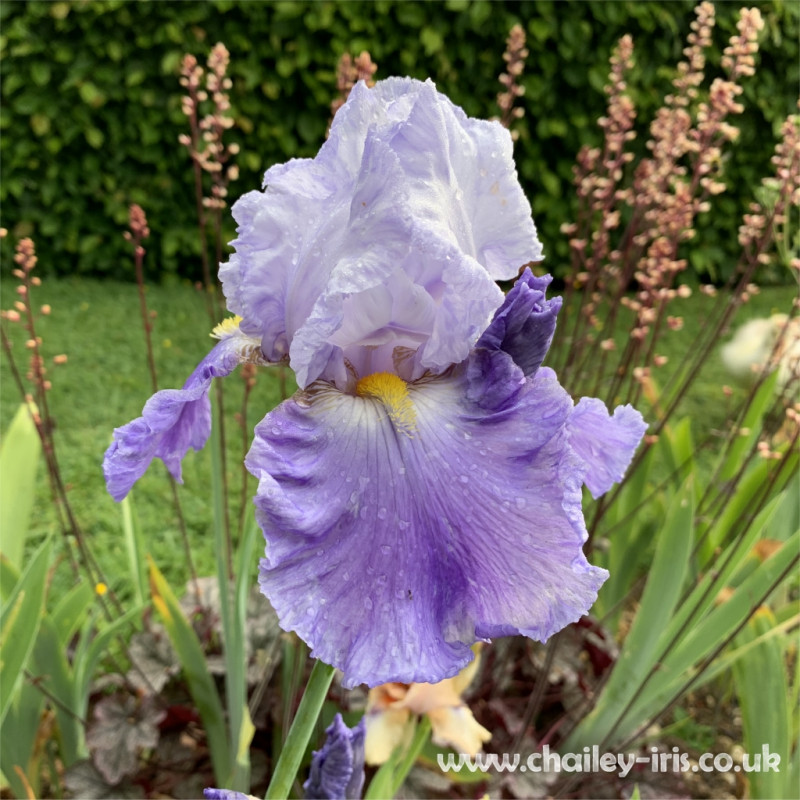  
Wake Water
Tall Bearded Iris 89cm.
Early-Mid ruffled violet-blue flower with spicy fragrance.
White ruffled standards with a hint of violet blue, falls are a violet blue - darker in the center and lighter at the ruffled edges. The beard is a mustard yellow.
Spicy fragrance.
Introduced 1995 by Tom Burseen from Bluid, Curtain Call, Risque, Holiday Spain and others.
(Tom Burseen, R. 1995) Sdlg. 0-40A. TB, 35" (89 cm), EM; S. white, blue influence at midrib; style arms white, washed blue; F. light blue washed violet blue (RHS 95C), lighter edge, darker centerline; beards mustard; ruffled; spicy fragrance. Bluid X 88-463: (86-164: (83-329: (Curtain Call x Galen) x 84-160: (Porta Villa x Risque)) x 86-17: (84-32: (Holiday Spain x Porta Villa) x Mandolin)). TB's Place 1996.
Data sheet
Height

Tall - 70-100cm

Colour

Amoena - Violet-blue

Fragrance

Spicy

Season

Early-Mid

Rebloomer

No