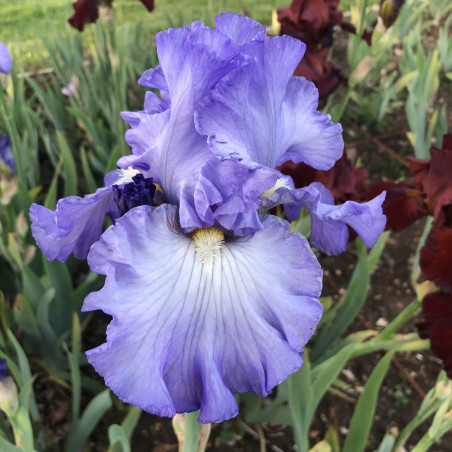  
Blue Note Blues
Tall Bearded Iris 94cm.
Mid Season flowering, May and June in the UK.
Pronounced Sweet Fragrance.
Ruffled medium blue falls with a blended lighter area near the pale yellow beards.
Hybridised by Richard Ernst in 1996 from various crosses including Navy Strut, Dover Beach, Swirling Seas and Nights of Gladness. 
We first saw this stunning iris in the Cooley's Nursery (Oregon) display garden in 1997, it now graces our own here at Chailey Iris Garden.

2022 Season now Open.
Orders shipped in September.
(Richard Ernst, R. 1996) Sdlg. 9-194 BL. TB, 37" (94 cm), M. Ruffled medium blue (RHS 96B to 100D), F. with blended lighter area near beard; beards pale yellow (near 4D); pronounced sweet fragrance. From sdlgs. inv. Navy Strut, Dover Beach, Swirling Seas, Nights of Gladness. Cooley 1997.
Data sheet
Height

Tall - 70-100cm

Colour

Blue
Yellow

Fragrance

Pronounced Sweet

Season

Mid

Rebloomer

No
Customers who bought this product also bought: