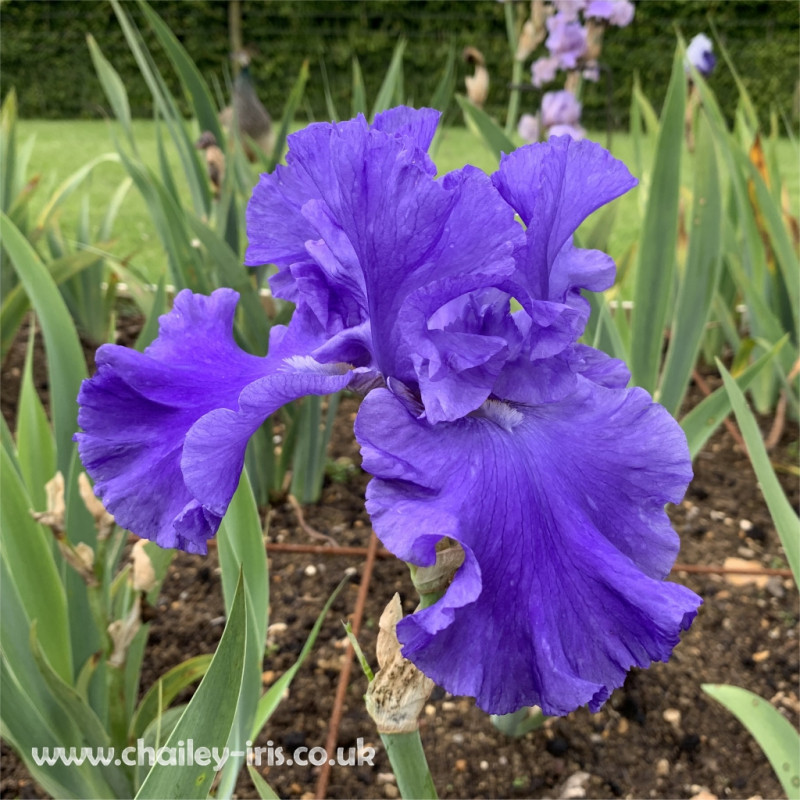  
Yaquina Blue
Tall Bearded iris 94cm.
Mid season showy ruffled flowers in medium blue. Yellow beard tipped white. 
Introduced by Schreiner in 1992 from Sapphire Hills, Parisian Blue, Blue Rhythm and many others. Parent to over 50 varieties including Blue Temptation, Merchant Marine, Sea For Miles and others.
Honorable Mention 1994, Award of Merit 1996, John C Wister Medal 1998, Dykes Memorial Medal 2001, Franklin Cook Memorial Cup 1996.
(Schreiner, R. 1992) Sdlg. W18-2. TB, 37" (94 cm), M. Ruffled medium blue (RHS 96B); beards yellow, tipped white. N59-A: (J78-3: ((Cup Race x Tufted Cloud) x Sailor's Dance) x I 38-A: (Sapphire Hills x (Parisian Blue x ((Blue Linen sib x (J 274-A x Violet Harmony)) x (Swan Ballet x Snowy Heron))))) X L 100-A: (I 144-G: (((((Black Onyx x N 371-1) x Grand Ball) x (Sterling Silver x (((Pierre Menard x (Blue Rhythm x Chivalry)) x Harbor Blue) x (Blue Sapphire x Harbor Blue)))) x unknown) x Neptune's Pool) x G 119-H, Royal Regency sib). Schreiner 1992. HM 1994, AM 1996, Wister 1998, Dykes 2001.
Data sheet
Height

Tall - 70-100cm

Colour

Blue

Fragrance

None

Season

Mid

Rebloomer

No