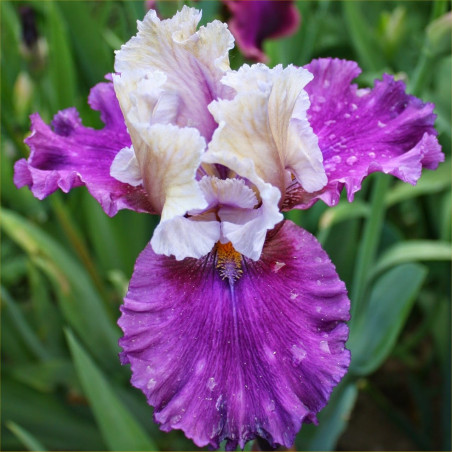  
Zepherina
Exquisite Bitone blooms.
Tall Bearded Iris 86-91cm.
Sweet Fragrance.
Early-Mid Season flowering, May and June in the UK.
Light lavender standards with a smoky maroon midrib. The falls are a velvety maroon with deep brown shoulders. The yellow beards are tippled purple.
Hybridised by William Maryott in 1995 from Mariachi Music X Twice Told.
Receiving an Honorable Mention in 1999.

2022 Season now Open.
Orders shipped in September.
(William Maryott, R. 1995) Sdlg. S195E. TB, 34-36" (86-91 cm), EM. S. light lavender (RHS 94C), midrib smoky maroon; F. medium velvety maroon (80C), shoulders deep brown (183A); beards yellow, tipped purple; slight sweet fragrance. Mariachi Music X Twice Told. Maryott 1996. HM 1999.
Data sheet
Height

Tall - 70-100cm

Colour

Purple
White

Fragrance

Pronounced Sweet

Season

Early-Mid

Rebloomer

No
Customers who bought this product also bought: