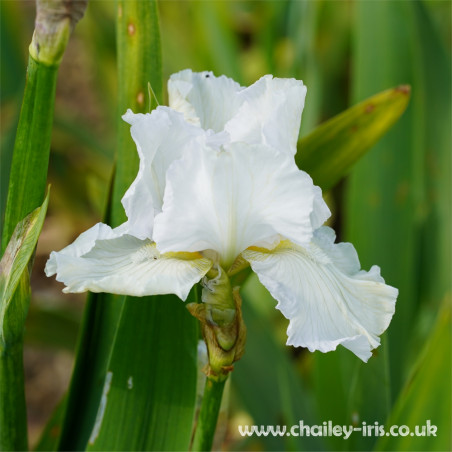  
Zurich
Tall Bearded Iris 86cm.
Early to Mid Season flowering, May and June in the UK. Reliable reblooming in autumn.
Beautifully ruffled white Self with white beards tipped yellow.
Hybridised by Monty Byers in 1989 from Immortality X (Cease-Fire x Sky Hooks).

2021 Season now Closed.
New orders shipped in September 2022.
(Monty Byers, R. 1989) Sdlg. D158-145. TB, 34" (86 cm), EM-M & RERuffled white; white beard tipped yellow. Immortality X B-8-2: (Cease-Fire x Sky Hooks). Moonshine 1990.
Data sheet
Height

Tall - 70-100cm

Colour

White

Fragrance

None

Season

Early-Mid

Rebloomer

Yes
Customers who bought this product also bought: