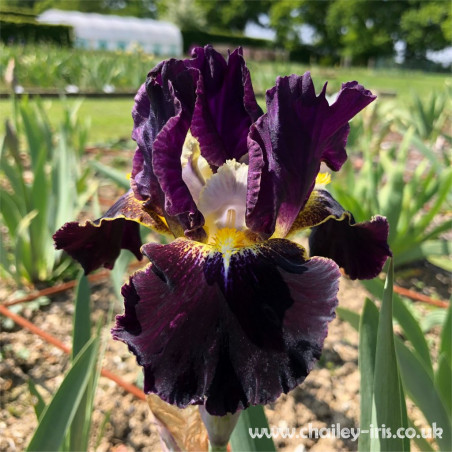  
Oblivion
Intermediate Bearded Iris 64cm.
Strong growing Intermediate iris flowering throughout May in the UK.
Pronounced Musky Fragrance.
Medium dark violet standards with grey Luminata veining and wire edging. Dark plum purple falls with a bright yellow area on either side of the yellow beards.
Hybridised by Marky Smith in 2002 from multiple crosses (see Description tab).
Receiving an Honorable Mention in 2005 and an Award of merit in 2009.

2022 Season now Open.
Orders shipped in September.
(Marky Smith, R. 2002) Sdlg. 98-29B. IB, 25" (64 cm), ES. medium dark violet (RHS 79B), grey luminata veining and wire edge, base yellow; style arms soft yellow (greyer than 1C), greyed violet midrib and crests; F. blacker than plum purple (darker than 79A), without rim or veining, bright yellow (1A) area on either side of beard; beards wide, yellow at end to yellow orange in throat, overall near saffron yellow (21A); ruffled; pronounced musky fragrance. 96-22C: (94-28Y: (((Violet Lulu x Keppel 84-15B, pollen parent of Spirit World) x Rosie Lulu) x Brash) x 92-18W: (Gemstar x Troubadour's Song)) X Keppel 92-23A: (Spirit World x 90-34A: (Fancy Woman x 86-23A, pollen parent of Answered Prayers)). Aitken 2003. HM 2005, AM 2009.
Data sheet
Height

Intermediate - 40-70cm

Colour

Purple
Yellow

Fragrance

Pronounced Musky

Season

Early

Rebloomer

No
Customers who bought this product also bought: