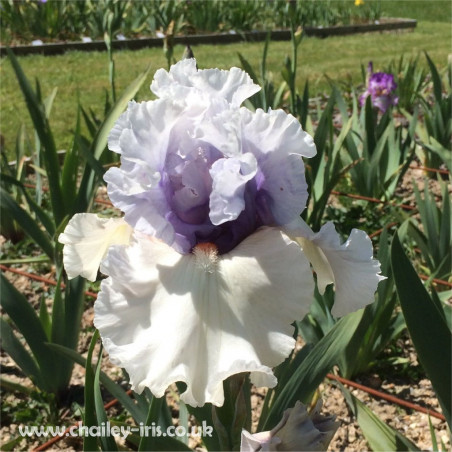  
Fogbound
Award winning, Very Tall Bearded Iris 107cm. 
Mid Season flowering, May and June in the UK.
Pronounced Sweet Fragrance.
Strongly ruffled blue white, shaded wistaria, touched pastel pink on inner hafts, white beards pinkish in throat.
Hybridised by Keith Keppel in 1997 from Wishful Thinking X Spring Shower.
Receiving an Honorable Mention in 2000 and an Award of Merit in 2002. Achieving the highest award possible from the American Iris Society; John C Wister Medal in 2005.

2022 Season now Open.
Orders shipped in September.
(Keith Keppel, R. 1997) Sdlg. 93-83C. TB, 40" (107 cm), M. S. blue white (M&P 41-A-1/2) shading to soft wistaria blue (41-D-7) in center and base; style arms blue white (41-A-2), lavender lip; F. white, inconspicuous pastel pink (1-B-7) shading on inner haft; beards pinkish orange (9-C-10), white at end; ruffled; pronounced sweet fragrance. Wishful Thinking X Spring Shower. Keppel 1998. HM 2000, AM 2002, Wister 2005.
Data sheet
Height

Tall - 70-100cm

Colour

Purple
White

Fragrance

Pronounced Sweet

Season

Mid

Rebloomer

No
Customers who bought this product also bought: