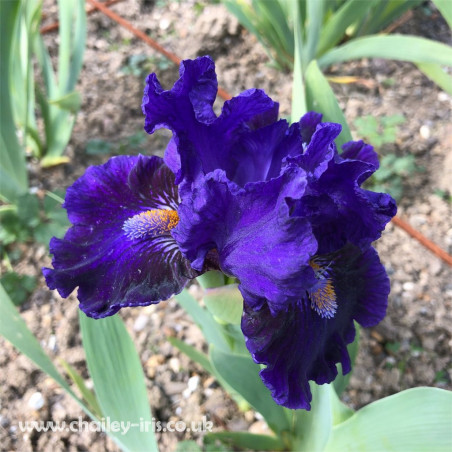  
Paraphrase
Intermediate Bearded Iris 64cm.
Mid to Late Season flowering, May though to the end of June in the UK.
Spicy Fragrance.
Ruffled Bitone blooms. Dark blue purple standards, blue black falls with slightly lighter edges and centre line. Old gold coloured beards with a purple base. 
Hybridised by Paul Black in 2000 from Broken Halo sib, X Tom Johnson.

2022 Season now Open.
Orders shipped in September.
(Paul Black, R. 2000) Sdlg. C104A. IB, 25" (64 cm), ML. S. and style arms dark blue purple; F. blue black, slightly lighter edge and centerline; beards old gold, base purple; ruffled; slight spicy fragrance. 87134B, Broken Halo sib, X Tom Johnson. Mid-America 2001.
Data sheet
Height

Intermediate - 40-70cm

Colour

Purple

Fragrance

Slight Spicy

Season

Mid-Late

Rebloomer

No
Customers who bought this product also bought: