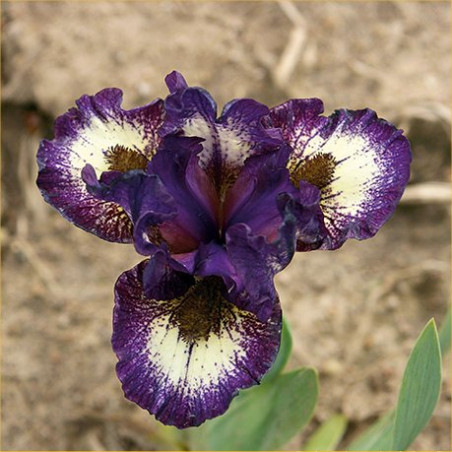  
Be Brief
Very Rare Miniature Dwarf Bearded Iris 18cm. Great for pots, rockery or close to a path or seat in the garden.
Mid Season flowering, May to June in the UK.
Pronounced Sweet Fragrance.
Plant 2-3 in a shallow wide pot to take indoors when in flower and fill the house with scent.
Butter standards with wide charcoal purple plicata bands and dotting. Very round ruffled butter-yellow falls have narrow dark purple plicata bands. Brown beards are a nice complement. 
Hybridised by the multi award winning Paul Black in 2008 from Stripe Three X Ballistic.
Receiving an Honorable Mention in 2011 and an Award of Merit in 2014.

2022 Season now Open.
Orders shipped in September.
(Paul Black, R. 2008) Sdlg. M160A. MDB, 7" (18 cm), M. S. butter yellow ground, dark charcoal-purple midrib, some charcoal purple plicata marks over central ¹⁄₃ becoming wide charcoal-purple band; style arms charcoal purple; F. butter yellow ground, narrow charcoal-purple plicata band becoming wider at hafts, dark brown veins on haft and dart at end of beard; beards gold tipped brown; ruffled; pronounced sweet fragrance. Stripe Three X Ballistic. Mid-America 2008. HM 2011.
Data sheet
Height

Dwarf - 26-40cm

Colour

Purple
Yellow

Fragrance

Pronounced Sweet

Season

Mid

Rebloomer

No
Customers who bought this product also bought: