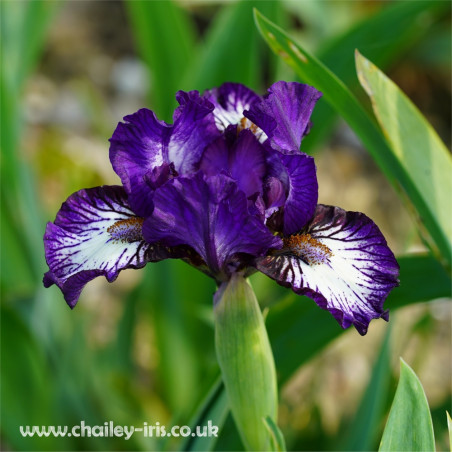  
Mister Mistoffelees
Standard Dwarf Bearded Iris 39cm. Purr-fect, sweet and late blooming.
Mid to Late and Very Late flowering, throughout May and June, even early July in the parts of the UK.
Pronounced Sweet Fragrance.
Plant 2-3 in a shallow wide pot to take indoors when in flower and fill the house with scent.
An intense indigo-violet Plicata with a very white background. White falls with dark plum haft edges and veins beside beards. The beards are dark brown at the throat, mid brown in the middle and light brown at the end with violet-blue hairs.
Hybridised by Paul Black in 2013 from Total Denial X Vivaldi.
Receiving an Honorable Mention in 2018. Mid-America 2014.

2022 Season now Open.
Orders shipped in September.
(Paul Black, R. 2013) Sdlg. S320A. SDB, 15.5" (39 cm), M-L-VL. S. white, wide indigo-violet plicata band, ground color showing only in lower center ¹⁄₃, more white ground inside; style arms indigo, plum edges and crests; F. white, dark plum haft edges and veins beside beards, mid indigo-violet plicata band wider at haft to narrow distal edge, some lines from edge to ¹⁄₃ into center; beards dark brown in throat, mid brown in middle, mid-light brown at end, hairs based light violet-blue; pronounced sweet fragrance. P168F, Total Denial sib, X Vivaldi. Mid-America 2014.
Data sheet
Height

Dwarf - 26-40cm

Colour

Purple
White

Fragrance

Pronounced Sweet

Season

Mid-Late

Rebloomer

No
Customers who bought this product also bought: