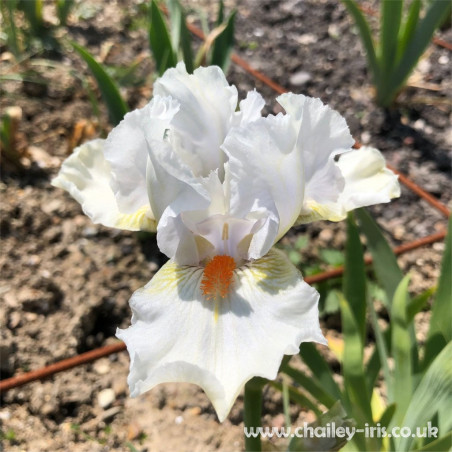  
I'll Be Back
Intermediate Bearded Iris 46cm.
Mid to Late Season flowering, May and June in the UK. Reliable rebloomer in Autumn.
White standards. The falls open very pale violet then fade to white. Orange Beards.
Hybridised by J. Terry Aitken in 2004 from Joe Cool X Eternal Bliss.

2022 Season now Open.
Orders shipped in September.
(J. T. Aitken, R. 2004) Sdlg. 98M14-B. IB, 18" (46 cm), ML & RE. S. white; F. open very pale violet, fade to white; beards orange. Joe Cool X Eternal Bliss. Aitken 2004.
Data sheet
Height

Intermediate - 40-70cm

Colour

White

Fragrance

None

Season

Mid-Late

Rebloomer

Yes
Customers who bought this product also bought: