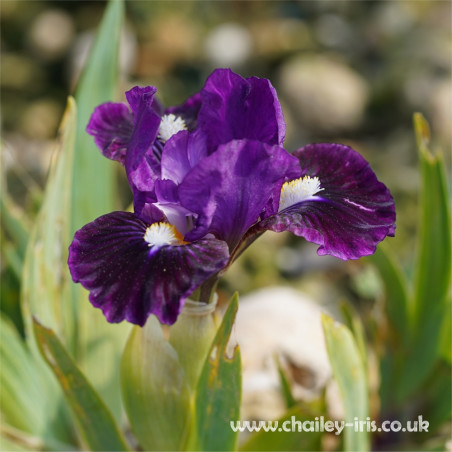  
Wise
Miniature Dwarf Bearded Iris 18cm. The 2007 Caparne Welch Medal winner.
Early Season flowering, May in the UK. Reliable Rebloomer in Autumn.
Pronounced Sweet Fragrance.
Plant 2-3 in a shallow wide pot to take indoors when in flower and fill the house with scent.
Standards and style arms are dark purple as well as the falls which carry a dark purple band. White, wide and bushy beards which are gold in throat 
Hybridised by Tom Johnson in 2000 from Bee Mused X Tweety Bird.
Receiving an Honorable Mention in 2003 and an Award of Merit in 2005.

2022 Season now Open.
Orders shipped in September.
(Tom Johnson, R. 2000) Sdlg. Q61B. MDB, 7" (18 cm), E & RE. S. and style arms dark purple; F. darker purple, dark purple band; beards white, gold in throat, wide and bushy; ruffled; pronounced sweet fragrance. Bee Mused X Tweety Bird. Mid-America 2001. HM 2003, AM 2005, Cap-W 2007.
Data sheet
Height

Miniature Dwarf - 25cm

Colour

Purple

Fragrance

Pronounced Sweet

Season

Early

Rebloomer

Yes
Customers who bought this product also bought: