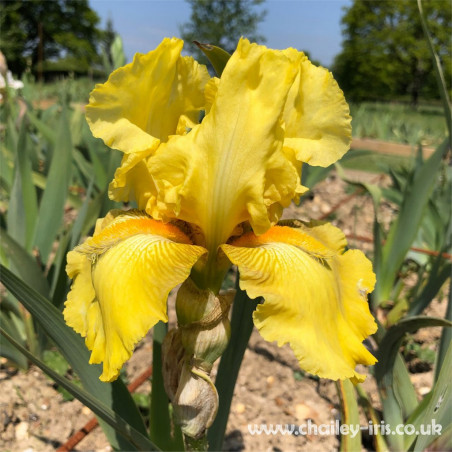  
Golden Immortal
Tall Bearded Iris 94cm. It's all in the name ! This variety is a must for anyone who wants a dark yellow in their garden.
Early through Mid to Late Season flowering, May and June and into early July with sporadic re-blooming anytime during the summer then Reliable Re-bloomer in Autumn.
Pronounced Musky Fragrance.
Beautifully ruffled golden yellow serrated blooms. White area near the beard and a bronze gold centre line in the falls. The beards are a dazzling cadmium orange with white at the base.
Hybridised by George Sutton in 1996 from Orange Popsicle X Zurich.

2022 Season now Open.
Orders shipped in September.
(George Sutton, R. 1996) Sdlg. G-63-RE. TB, 37" (94 cm), EML & RE. S. and style arms barium yellow (RHS 10A); F. naples yellow (11A), white area near beard, 1/4" bronze gold centerline; beards cadmium orange (23A), white base; ruffled, edges serrate; pronounced musky fragrance. Orange Popsicle X Zurich. Sutton 1997.
Data sheet
Height

Tall - 70-100cm

Colour

Yellow

Fragrance

Pronounced Musky

Season

Early-Mid-Late

Rebloomer

Yes
Customers who bought this product also bought: