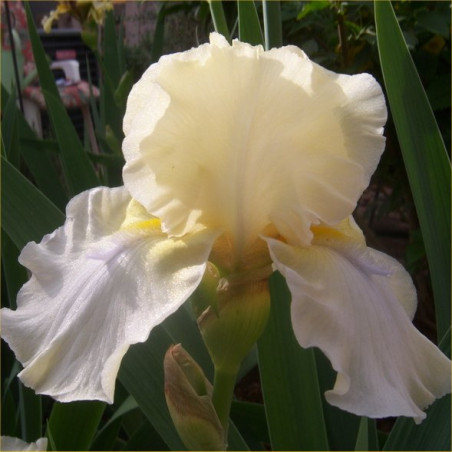  
Border Music
Very Rare Border Bearded Iris 66cm.
Early-Mid through to Late Season Flowering, early May to late June in the UK.
Sweet Fragrance and beautifully Ruffled blooms.
An interesting blend of yellow and pale violet standards. The pale violet falls are veined darker. Yellow ochre shoulders with a yellow ochre rim.
Hybridised by the late, great George Sutton in 1997 at his famous Nursery in Idaho from Berry Rich X Miss Nellie.
George and his wife Margaret were instrumental in creating the Porterville Iris Festival.

2022 Season now Open.
Orders shipped in September.
(George Sutton, R. 1997) Sdlg. E-36RBB. BB, 26" (66 cm), EMLS. blended yellow ochre and pale methyl violet; style arms yellow ochre; F. pale methyl violet (RHS 85C) veined darker, 1/4" yellow edge at end of F., dark yellow ochre shoulders; beards yellow, methyl violet base; ruffled; slight sweet fragrance. Berry Rich X Miss Nellie. Sutton 1998.
Data sheet
Height

Border - 40-68cm

Colour

Pink
Yellow

Fragrance

Sweet

Season

Early-Mid-Late

Rebloomer

No
Customers who bought this product also bought: