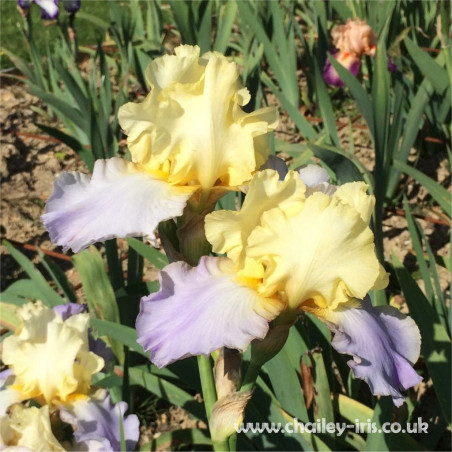  
Betty Simon
Historic Tall Bearded iris 81cm.
Mid to Late Season flowering. May and June in the UK.
Yellow standards with a creamy yellow centre area. The falls are violet-blue with chartreuse hafts. Yellow orange beard.
Hybridised by Melba Hamblen in 1975 from Misty Dawn X Foggy Dew.
Receiving an Honourable Mention in 1977 and an Award of Merit in 1979.

2021 Season now Closed.
New orders shipped in September 2022.
(M. Hamblen, R. 1975) Sdlg. H69-47. TB, 32" (81 cm), M-L. S. yellow (RHS 3D), creamy yellow center area; F. violet-blue (92B), chartreuse hafts; yellow orange beard. Misty Dawn X Foggy Dew. Mission Bell 1976. HM 1977, AM 1979.
Data sheet
Height

Tall - 70-100cm

Colour

Purple
Yellow

Fragrance

None

Season

Mid-Late

Rebloomer

No
Customers who bought this product also bought: